Discover 5 new myTikee features
In the context of worker safety maintenance, documentation content enhancement, and error mitigation during field plan execution, discover 5 new myTikee features.
1. Live Streaming
Access the live video stream from any of the camera's sensors at any time, and enjoy live video with the Tikee 3PRO+!
Experience the power of Tikee Camera's Live Video Streaming with real-time visual perception that grants an immediate window into your ongoing endeavors. Never miss a critical project moment, offering one-minute live updates.
With up to 60 live streaming requests monthly per Tikee camera, swift decision-making becomes second nature, especially for project managers needing to promptly address issues or adjust plans to maintain project progress.
Live video streaming allows you to oversee construction sites, events, or remote facilities efficiently. Prevent delays, identify potential problems, and keep projects on track.You can choose between the camera's two Full HD lenses (1980x1440px) for your live sessions, enhancing your project supervision capabilities.
Available for Tikee 3 PRO+ cameras with Always On feature, and with myTikee Unlimited and myTikee Enterprise subscriptions only.
2. Smart Selection
With the Smart Selection feature, get quick access from the video gallery or portfolio to professional-quality timelapses automatically generated every day thanks to our image selection algorithms based on Enlaps expertise.
All videos generated on myTikee now benefit from our Enlaps-based algorithms for selecting the best photos.
This advanced feature seamlessly provides users with access to a curated repository of high-fidelity timelapse videos within their gallery.
3. 3D BIM model
A 3D model feature serves as a digital representation of a three-dimensional building within the construction site's timelapse environment. It offers a powerful tool for visualizing and simulating real-world construction and spaces. With this feature, you can effortlessly upload a 3D model of your building to monitor the progress of your construction project. You have the flexibility to manipulate the 3D model, adjusting its scale and orientation as needed, allowing for a direct comparison with the actual project progress. Supported file formats for upload include FBX, GLB, GLTF, or OBJ, complete with embedded textures, with a maximum file size of 10 megabytes.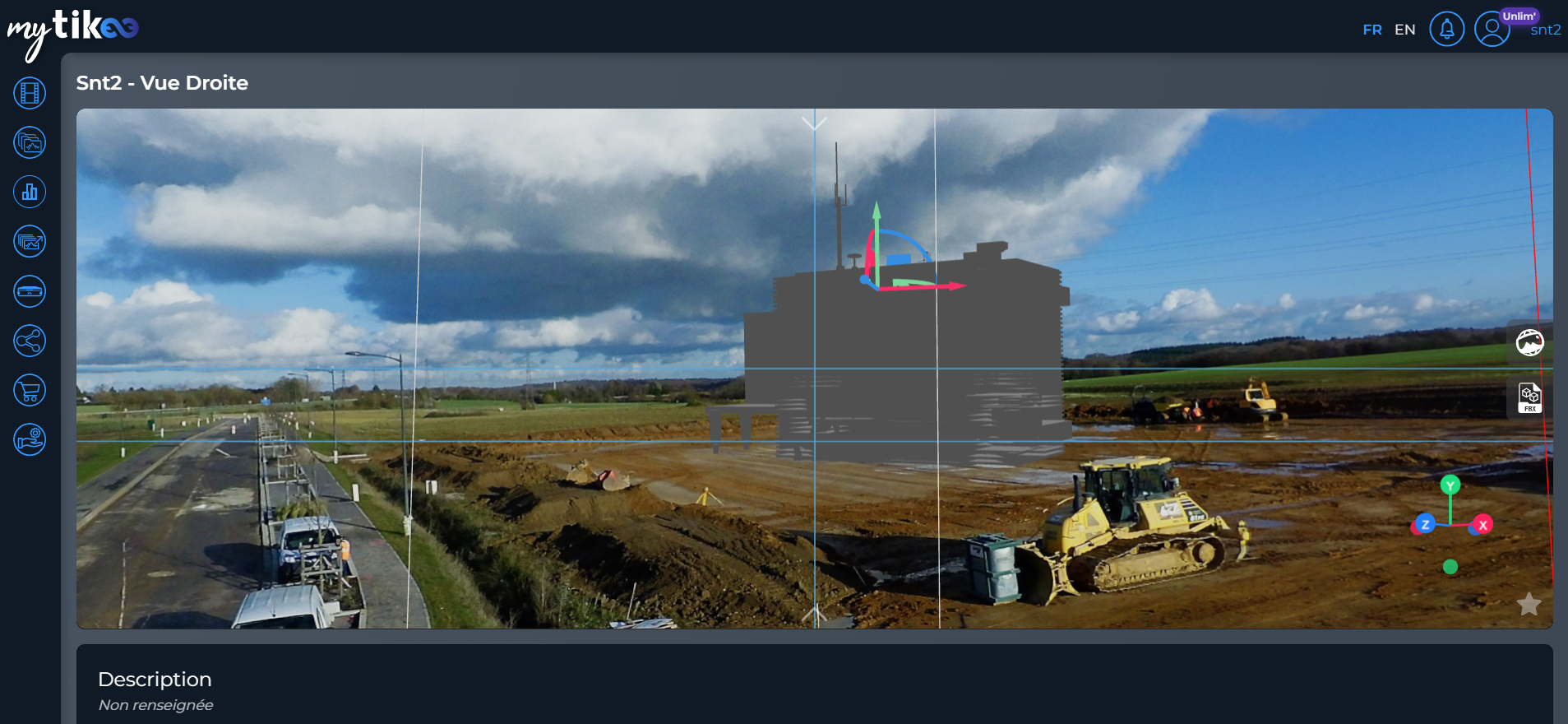 4. Filtering detections
Gain insight into your project site workflow with the detection filter. Quickly spot photos with potential hazards, after selecting your requirements among a variety of filters.
You can also check the footage with missing essential protective equipment (PPE), and eliminate image gaps completely without detected elements.
Available with myTikee Unlimited and myTikee Enterprise subscriptions only.
5. Always On V2
Benefits of this feature:
It enables Tikee to be woken up at any time from the cloud platform
It is available on 4G-connected Tikee 3 PRO and Tikee 3PRO+
Synchronize with myTikee cloud platform at any time to send status and pending images, and also retrieve new settings made from myTikee
Take a photo snapshot (4260x1534 pixels) and send it to myTikee
Take a 20-second video snapshot (Full HD - 1920x1080 pixels) with one of the camera's 2 lenses and send it to myTikee (only available on Tikee 3 PRO & 3PRO+).
Update your Tikee camera firmware remotely
You no longer need to go anywhere to update your camera, you can now do it remotely with just one click, and benefit from all the new features.
Launch a live streaming video session from one of the camera's 2 lenses in HD resolution (1280 x 960)