As low as
€198.00
€165.00
1 purchased license is required per camera connected to the myTikee account
It's not possible to have different myTikee offers on a single myTikee account. To have access to the Storytelling features, you need as many Storytelling licenses as there are Tikee cameras connected to your account.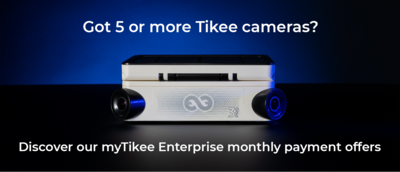 A professional automated content creation platform for next-generation deliverables leveraging the full power of Artificial Intelligence.
Specifications
Specifications
More Information

| | |
| --- | --- |
| Description | A professional automated content creation cloud platform for next-generation deliverables leveraging the full power of Artificial Intelligence. |
| Portfolios | Advanced sharing of multiple viewpoints in a portfolio for easy integration |
| Image transfer to FTP server | Image transfer on FTP (option) |
| Map of viewpoint locations | Navigation between points of view using a map |
| Viewpoint gallery | Portfolio (AI filters, Viewsfeed, map) |
| AI filtering | Filtering by IA of the photos: Nice weather, snow, good visibility, beautiful sky |
| News feed | Viewsfeed: automatic content selection and generation |
| Projects from left, right or panoramic images | Points of view from left, right or panoramic images of the Tikee |
| Email notifications | Email alerts |
| Camera | Dashboard for managing your fleet of cameras and email alerts of anomalies |
| Custom watermark | Custom video watermark |
| Hosted images | Up to 100,000 images hosted per camera |
| Video rendering | Max video resolution: 6K |
| Timelapse builder | Advanced Timelapse Builder based on AI features and image stabilization |
| Enhanced Image Gallery | Advanced viewing gallery: panoramic view, immersive, before/after image comparison, favorites |
| Sharing options | Advanced shareable features |
| Advanced pictures filtering | Advanced filtering of your photos |
| On-the-fly creation | Timelapse video editing: on-the-fly creation, photo filtering, Pan&Zoom effect |
| subscription period | 3, 6 or 12 months |
| Mask blurring | Mask blurring |
| Stabilization | Stabilization |
Would you like a demonstration?
The Best Automatic Time Lapse Video Software to Tell Your Stories: myTikee Storytelling
Oblivious to the fact of what a time lapse video is? You've probably seen one in a film, TV show, or documentary. Despite their specificity, time lapses are widely used in video entertainment. Learn how to generate great time lapse content with the right software editing tool.
Time lapse is a method of shooting frames significantly slower than normal (e.g., 24 frames per minute instead of per second). This speeds up the action. Clouds moving or plants growing is common in nature documentaries, but also used in other genres. Using a slower shutter speed and extending the exposure time can create the illusion of motion in a static image. You might be wondering now where and how you can have free timelapse software? Well, myTikee is one of the best free timelapse software!
myTikee Storytelling Features
All you have to do is to download myTikee as it is now one of the most ultimate tools for automating your personal storytelling. myTikee PRO, one of its plan versions, automatically creates professional-looking time lapse videos from your photos. myTikee is the best video creation software when making great time lapse videos. It is an easy-to-use setup, and its graphic interface allows multiple automatic recording types to be captured and created within the program.
You have probably seen the cool time lapse videos of sunsets, clouds moving, plants growing, etc., and thought it must have been challenging to create something like that. But actually, they can be automated! With the help of myTikee software, you yourself can now create a time lapse by simply setting your camera to take photos every few minutes. Afterward, the software will create a time lapse video for you at the touch of a button!
Here are some of the software's features:
Portfolio
myTikee is an easy solution to create a great timelapse. It lets you automatically sync photos, create professional videos and share them on the web or social networks. The app to use for creating unique timelapse movies. It gathers all the numerous perspectives that your Tikee time lapse camera shot into a single portfolio by organizing and grouping them. It allows you to create render-friendly movies for YouTube and Vimeo.
Post-process movies with filters and presets, export videos in different ways, create stunning time-lapses with ease, generate industry-quality reports about your videos, protect your videos with passwords, and much more!
Navigation between points of view
This breakthrough technology allows you to navigate between multiple cameras in a timelapse movie and create a smooth look for the most advanced storytelling software available. It uses revolutionary time lapse cameras' geolocation; you may browse between multiple points of view on a virtual map as you wish.
It has a draggable viewing window for point-and-click navigation between points of view, a very intuitive time slider with scene detection, and a unique scene marker system with zooming, scaling, and rotation. It can also support an unlimited number of video layers on the canvas, a matte creation tool for 3D looks, and has a camera settings panel for quick adjustments.
Smart Filtering
myTikee Storytelling lets you choose exactly what you want to capture, and when. Our Artificial Intelligence filters - good weather, snow, good visibility, or even a beautiful sky - help you find the best moments in your timelapse. These filters are designed to make your timelapse creation easier! All you have to do is select the right filter, depending on weather conditions or other factors.
myTikee Storytelling is a smart filtering tool for photos, videos, and timelapse software with no editing needed! It automatically detects the best moments in your photos and creates professional videos or timelapse movies to share online, in real-time!
Viewsfeed
Looking for an easy way to make your timelapse videos more shareable and eye-catching? myTikee Storytelling features a revolutionary AI-powered algorithm, which intelligently analyzes thousands of timelapse videos to create amazing content for your story. It will optimize all your photos and videos by using the best frames, filters, and keywords. That way you only have to create one video every day, then myTikee, the timelapse editor tool, does the rest.
Enrich your story every day with optimization. Its AI engine will turn timelapse videos into breathtaking stories, all while you are away. It organizes your content in a meaningful way, to be shared on all your social media channels.
Advanced Sharing
Do you love sharing your timelapses? myTikee Storytelling is a platform designed for time lapse professionals. Create beautiful timelapse videos featuring your work, photos, videos, and text. Not only can you discover any public track shared by any member of myTikee Storytelling , but you can also add your friends and see their amazing file content without leaving the app.
Utilize the myTikee Storytelling Features to build your own free online gallery! The software enables you to easily create your own portfolio with unlimited projects, easy sharing via private links, and fully customizable ShareBoxes. Create a portfolio, link to your website, and share every file with ease via private links. Customize the look and feel of your content with fully customizable iframe embeds.
Additional myTikee Storytelling Specifications
The myTikee Storytelling software automates content creation for next-generation deliverables, leveraging the full power of artificial intelligence. The easy-to-use dashboards teach it how to monitor your Tikee camera, pinpoint areas of interest, and take the right photo at the right moment. It is an HD camera driving system, combined with a powerful Artificial Intelligence engine. It uses global positioning systems (GPS) to track its position. Likewise, it also features a wide-angle contour camera with Bluetooth to take images when it reaches certain points in its path. All these features are built within the software's system to ensure that your time lapse will be at its best version possible. The only step that it mainly requires you to do is specify your desired level of automation, and myTikee Storytelling will do the rest of the editing process for you. Expect to generate a time lapse video of quality with a high resolution, stable frame, and unique effects to share your story.
Others myTikee software subscriptions
Products you may be interested in