Express Delivery

Secure Payment

Made in France
From $1,999.00
To $4,190.00
Camera

External Solar Panel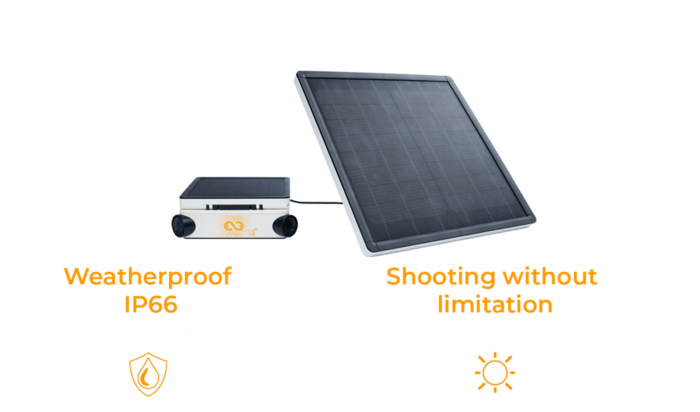 Download the manual of the external solar panel
Specifications
Specifications
More Information
Boîtier
1
Dimensions cameras
210 x 180 x 70mm
Caméras
Image Sensors: Sony Exmor R 16 Mpx
Lenses: F2.8 wide angle lenses
DFOV : 149 °
Maximum resolution of the sensors: 16 Mpx
Full resolution image size (per sensor): 4608 x 3456
Size of the sensors: 1 / 2,3
Nombre de capteurs
2 modules caméra pour des photos panoramiques
Résolution des images gauches et droites envoyées sur l'application web
Upload pictures resolution : Adjustable - Up to full size 6K
Format des photos
Jpeg / DNG / Jpeg+DNG
Snapshot
Vidéo snapshot single lens - 20sec Photo snapshot
Résolution des vidéos timelapses
up to 6K with a myTikee storytelling subscription
Compatibilité réseau telecom 4G LTE
4G/LTE World compatibility LTE-TDD: B34/B38/B39/ B40/B41 LTE-FDD: B1/B2/B3/B4/B5/B7/ B8/B12/B13/B18/B19/ B20/B25/B26/ B28/B66 UMTS/HSPA+ : B1/B2/B4/B5/B6/B8/B19
Détails résistance aux conditions extérieures
IP 66 : Designed for extended outdoor use (resistant to sand, snow, rain, etc.) Rotating and tilting arm of solar panel made with anodized aluminum Magnetic closure of the solar panel Operating temperature: -10 / + 50 °C Storage temperature: -25 / + 60 °C
Stockage
Micro SD Card up to 512GB
Batterie intégrée
Fully autonomous power management : Built-in Li-on battery and Solar panel
Capacité batterie
Indicative data without solar input: for 1 photo every 15 minutes 24h / 24: – with image upload: 12 days of autonomy – without image upload: 36 days of autonomy
Panneau_solaire_externe
Waterproof connector to connect a dedicated external solar panel
Charge
micro USB: 5V / 2A max.
External connector 5V/2.5A
Envoi des données sans fil
Periodic connection in wifi (telecom subscription not included)
Permanent connectivity possible in ""Always On"" mode in 4G LTE (telecom subscription not provided)

Resolution of left and right images sent to the web application: selectable from 3 dimensions (in pixels):
Small (S) - 2048 x 1536 per image, approx. 1 MB per pair (panoramic image after fusion: 3280 x 1180)
Medium (M) - 2664 x 1998 pixels per image, approx. 2.5 MB per pair (panoramic image after fusion: 4260 x 1534)
Large (L) - 4608 x 3456 pixels per image, approx. 5MB per pair (panoramic image after fusion: 7360 x 2650)
Détails paramétrage des données sans fil
Bluetooth Low Energy IOS and Android compatible mobile application Smartphone Compatibility: Bluetooth 4.1 and + – Android 5 and + – iOS 11 and +
Système de fixation
Standard ¼ "camera screw
Upload mode
Normal mode: send every 25 (default value, configurable) pictures of the camera the status and pictures to myTikee
Minimal mode: sending status and a photo once a day
Sample mode: sampling of the photos sent, only 1 photo out of N (value chosen by the user) will be sent to myTikee
The upload mode, network coverage and settings chosen can significantly increased energy consumption
Sécurisation du Tikee
Metal insert for the passage of a padlock
Shooting Interval
Long term sequence : 30 seconds minimum
Event or Burst : 5 seconds minimum
Localisation
Yes - embedded GPS with assisted mode
(Available only with a 4G LTE connection)
Mise à jour du firmware
Close to Tikee : update of the embedded software from micro SD card, wifi or 4G LTE
Adaptative interval
Yes - Mode allowing automatic adaptation of the shooting interval to optimize energy consumption
Version de Tikee
Global
Professional time-lapse camera: take the best pictures for your projects
Everyone who wants to take the best pictures should choose Tikee. What's Tikee 3 PRO? The professional time-lapse camera! With its built-in features, this is the perfect device for every photographer.
Tikee time-lapse camera is the best professional time-lapse camera and most practical solution for creating amazing time-lapse videos. By using Tikee we can edit thousands of photos in just a few seconds which will create a video that will last from 20 to 60 seconds. In the past, people used one-hour camera editing for one hour at a time for one time shoot, and this led to lag there were only 20-30 seconds of video.
Tikee 3 PRO time-lapse camera is the best choice if we want to edit all those moments properly, and we cannot forget anything. It has all those features that a person looking for a time-lapse camera, must be looking for. Let's learn about its features below:
The Tikee 3 PRO offers all the features that you would expect from a professional time-lapse camera. With this state-of-the-art, feature-packed camera, you can edit time-lapses effortlessly.
Introducing Tikee 3 PRO
Tikee 3 PRO is a revolutionary new way to edit photographs of your world. Combining a powerful compact camera with a smart mounting system.
Timelapses are difficult to take. You need your hands to be steady, have expert camera skills, and a lot of patience. However, there is one way you can improve the quality of your pictures immediately: by using a professional time-lapse camera to edit them.
The best way to improve your photography is to take lots of pictures, but this takes a lot of time. By using the Tikee timelapse camera, you can edit an event without having to stand next to your camera taking individual photos. This will give you more time to plan the next shooting. The Tikee timelapse camera will provide you with great photos that can be easily enhanced in post-production.
Tikee 3 PRO is the next-level camera for editing your subjects. Even though the editing process may seem like a complicated task, it can be easily solved by using Tikee 3 PRO camera with the help of its automated settings and myTikee cloud creative content platform.
How to use Tikee 3 PRO?
This camera is user-friendly, lightweight, and cost-effective. Tikee camera is a time-lapse camera that cost-effective captures 220-degree panoramic views of outdoor scenery in high resolution, so you can relive the results endlessly.
A professional time-lapse camera is the best camera for video makers, especially for time-lapse sequences. This is a great camera with stunning features and a small body. It's very easy to use and has a variety of settings that will help you be in full control of each sequence.
Why choose professional time-lapse camera Tikee 3 PRO?
The brand-new Tikee is a professional time-lapse camera designed for professional photographer's editors. If you want to edit your best pictures - that's the right time-lapse camera for you.
Tikee 3 PRO is a camera that will help you to edit the best photos. If you want to connect the camera with your phone, then you should know that there is no need for cables or wires. You can use a Wi-Fi connection, so it is easy to use this device. It has many functions which are interesting for people who are professional photographers.
Tikee 3 PRO time-lapse camera is the easiest way to make professional-quality time-lapse videos. A time-lapse camera does not need to be expensive to take great pictures. Tikee 3 PRO camera is reliable, easy to use, has self-timer control, and can give you amazing results. Why choose Tikee? We believe that the solution is simple: the best user experience.
What are the Specifications of the Tikee 3 PRO camera?
With Tikee 3 PRO, you will be able to access your camera remotely. You can also use it to monitor your project status or run it automatically. Your Tikee 3 PRO timelapse camera is always available on the map view, where you can track its exact location and see all its events in history.
If you are looking for a professional time-lapse camera with advanced construction, which allows the use of microSD cards to store DNG files, then Tikee 3 PRO is for you. You can send photos from the camera to the cloud using WiFi or Bluetooth. This way, your photos will stay in DNG format and you will be able to use them easily for post-production.
The Tikee 3 PRO is the perfect companion for everyone who loves to take photos. It supports you with full HD up to 6k resolutions timelapse videos of your most important projects. With the help of a professional timelapse camera, you can easily combine the best pictures into the most beautiful timelapse videos.
The Tikee 3 PRO is the most advanced solution. Its embedded GPS will connect all your shots and you won't worry about synchronizing them later. It also allows you to create a timelapse video easily and efficiently, being fully automatic makes it extremely easy to use even for beginners.
Tikee 3 PRO is the foremost professional time-lapse camera with these three different shooting modes - Normal mode, Minimal mode, or Sample mode, making it easy to capture whatever moments need to be captured.
Also, Tikee 3 PRO timelapse camera makes it easier to be compatible with any MicroSD card up to 512 GB, this rugged camera allows you to capture stunning HDR photography or time-lapse videos.
Tikee 3 Pro is the easy-to-use, all-in-one IP66 weather-resistant outdoor timelapse camera that is designed to be used in all weather conditions without any protection. It can be mounted just about anywhere, with a waterproof casing that protects it from harsh weather conditions.
Use the right equipment with your pro time-lapse camera
Mastering time-lapse photography requires great attention to detail and a ton of knowledge about the subject. Tikee 3 PRO is the foremost self-adapting smart camera that helps you take professional-level timelapse videos.
The Tikee 3 PRO is a professional time-lapse camera designed not only to capture high-definition images at high speed, but also has some smart features, so you can control the camera on demand. With Always-On mode, you can fully automate the camera or control it remotely via your smartphone, so you don't miss any of the action!
It is important to capture all the minute details of the work progress of your project, the Tikee 3 PRO professional time-lapse camera makes it easier to capture all your important moments. So, what are you waiting for? Grab now Tikee 3 PRO time-lapse camera and take the best picture of your project.
Our others products