Use a jobsite camera for your construction projects
Are you looking to capture the subjects at various angles for your construction site monitoring? Then Tikee 3 PRO jobsite camera is made for you! It is the perfect option for photographers and videographers who need to take pictures from different angles, like job site contractors.
Tikee 3 PRO, a next-level timelapse camera, can shoot professional timelapse photography with adjustable exposure. The camera features waterproof housing, a durable structure, and minimum glare for stable capturing. It is a jobsite camera that lets you capture high-quality images and time-lapse footage with ease.
Enlaps has the solution for your problem, with the help of Tikee 3 PRO, you can easily monitor the construction site. These powerful jobsite cameras are not only helping contractors to oversee their ongoing projects, but also giving them information about the project progress. Tikee 3 PRO makes your work easier to monitor construction sites.
The Tikee 3 PRO comes with a range of features that enable you to adapt to any job site environment, allowing you to capture higher quality video evidence. Since the Tikee 3 PRO is weatherproof, it meets this demand for durability and reliability.
The significance to record each step of your project
Many construction companies, big and small, now rely on timelapse video to streamline the management of their jobsite. Tikee 3 PRO is a construction time-lapse camera specifically designed for easy monitoring of construction sites and timelapse photography. You can monitor many kinds of projects with Tikee 3 PRO.
The timelapse camera allows you to see what happens during construction. Timelapse video captures construction progress in a fraction of the time. Day and night shots allow the viewer to see exactly how some of these large projects come together. The best thing about this construction site timelapse camera is that they are easy to install.
If you already shot timelapse footage, you probably know that most cameras cannot record a large amount of data in raw format. Tikee 3 PRO can work with raw photos in DNG format stored on your microSD card. Also, it can automatically convert to JPEG for easy upload to any cloud server.
Tikee 3 PRO hands-free camera that is always on
Do you want to monitor and control your camera as if you were right there, every step of the way? From creating timelapse videos or taking long exposure photos of star trails or cityscapes, you might be interested in using a Tikee 3 PRO camera. You can trigger a remote shot immediately anytime you want from anywhere.
Tikee 3 PRO is a portable timelapse camera with Wi-Fi. You can set your Tikee 3 PRO to take pictures either manually or automatically. Whenever you are not within the range of your construction site to monitor, you can access your camera, monitor its status, and control all settings with its always-on mode feature.
Tikee 3 PRO provides you with three sending modes named Normal mode, Minimal mode, or Sample mode to send all your photos or only some of them. The correct choice of sending mode enables you to control the camera better.
Benefits of a jobsite Tikee 3 PRO timelapse camera
Tikee 3 PRO lets you take high-quality pictures in three resolutions : Full HD, 4K, and 6K. Now you can shoot epic panoramas at any time, complete with all the action in perfect focus. You can take stunning wide-angle photos. No other ultra-wide-angle robotic camera offers this complete flexibility yet delivers stunning shots without distortion!
With the Tikee 3 PRO Camera, you will have ultimate control over how fast or slow your timelapse is and where it takes place. It is significant for timelapse and surveillance because it has an embedded GPS that gives you its precise location.
Tikee 3 PRO has a camera that can take up to 512 GB on a microSD card, either 64,000 images in JPEG format or 15,000 images in DNG format. That is more than any other camera on the market today.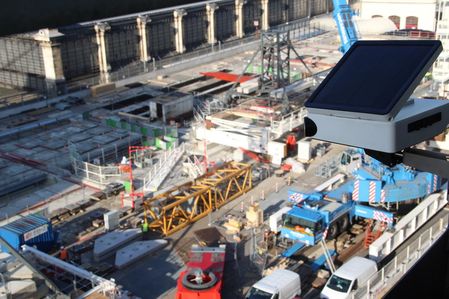 Why choose the Tikee 3 PRO camera over other brands?
There are many jobsite cameras out there on the market. No doubt, Tikee 3 PRO is the best choice for you as it ensures there are no issues with either safety or productivity. Choosing the right timelapse camera to use is half the work.
Having the ability to review progress while it is happening eases the burden of managing construction projects. Knowing that it is working all the time means there is less need to check that everything is running smoothly.
Are you in the construction trade, either in commercial or residential? After all, many exciting challenges come with building new buildings or remodeling older ones. If you are an on-site construction manager, you understand the importance of constant on-site site checks. Construction site monitoring is crucial for quality assurance, safety, and security.
Camera monitoring consists of recording the progress of building construction as a security measure. One of the big reasons people install a camera for this purpose is to combat theft on-the-job site. Hence, investing in jobsite timelapse cameras like Tikee 3 PRO is essential to save future losses.
Why choose Tikee 3 PRO over other brands? Well, it comes down to these three reasons : reliability, durability, and affordability. It's the perfect camera for jobsite construction monitoring. If you are looking for a quality camera to monitor your jobsite progress, then Tikee 3 PRO is the solution that you are awaiting.
Other articles to read