Choosing the best memory Card for your camera
The 21st-century marketplace is bombarded with various types of hi-tech products, and almost all of them present their products with 5 stars ratings. From cheaper and cost-effective options (2 or 3 stars) to premium high-end memory cards (4 stars and up), everything is available in the marketplace to choose from. Additionally, you might want to learn why you should do backups of videos and image projects.
So, how exactly does one select the right memory card for their devices, without worrying about making the wrong choice? This write-up focuses on giving valuable insight to help you choose the best memory card based on your requirement.
Memory Card Brands
Before buying a memory card, you must educate yourself about the different brands of memory cards. Do you want to learn more about which brand of memory card to choose? There are many renowned companies like SanDisk, PNY , Lexar, Samsung, Panasonic, Kingston, that offer a wide range of 5 stars memory cards options.
Understanding the prime features of each brand of products is important, so you can make a proper selection of memory cards.
Basically, there are four major considerations while selecting a memory card :
The capacity of the memory card

The bus speed of the memory card

The speed class of the memory card

Device compatibility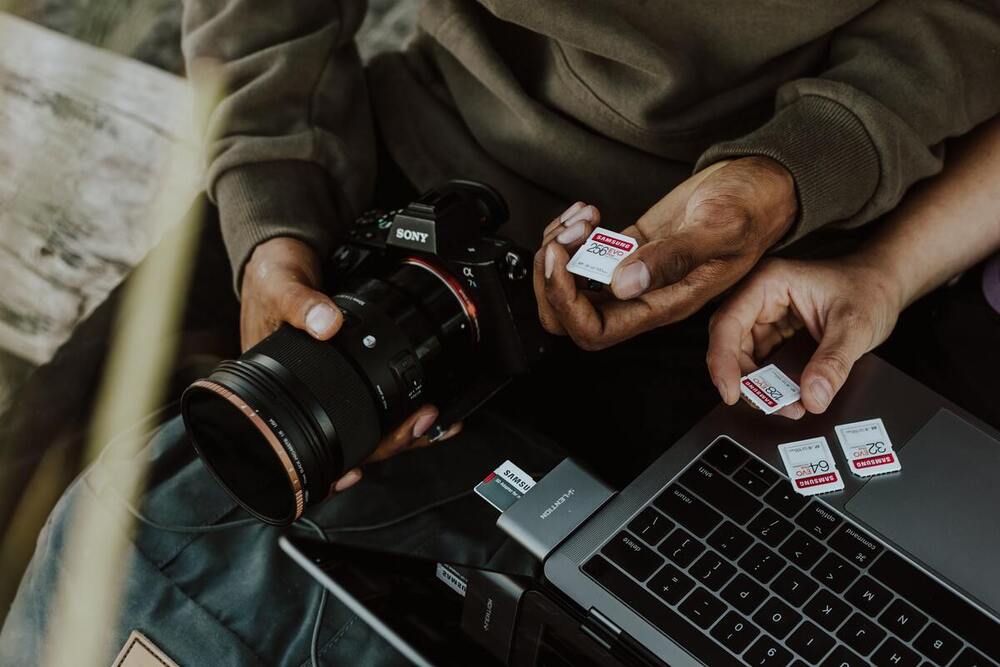 Let us study each in detail:
Memory Card Capacity
If you pay attention, then checking the memory card capacity can be very easy as it's usually clearly stated on the card label and/or description. You just need to check the name, and you can often read the memory card capacity in an instant. The following brief about the memory card capacity classes would help you understand the SD association markings :
On most cards, you can find a SD marking or indication. This can be either SD / SDHC / SDXC / SDUC. These naming hide a capacity range indication, defined in a standard maintained by the Secure Digital Association. Let's have a look at each type :
SD
They are also called SDSC, and these are SD cards with a capacity of up to 2 GB.
SDHC (Secure Digital High Capacity)
SDHC memory cards have a capacity from 4GB up to 32 GB
SDXC (Secure Digital Extra Capacity) or microsdxc
As the name suggests, SDXC memory cards have a high storage capacity from 64 GB to 2TB . Example : Sandisk extreme microSDXC
SDUC (Secure Digital Ultra Capacity)
SDUCs are advanced memory cards that have a capacity of up to 128 TB.
Memory Card Bus Speed
Bus speed basically refers to the data transfer speeds or read/write speed capabilities. Each type of memory card has a different transfer speed. You need to select the ones that meet your device requirements. Basically, there are three categories of memory cards if we consider the bus speed :
UHS - I
The theoretical bus speed of UHS-I is about 104 MB/s, its actual speed of transfer or read/write speed might be somewhere between 50 and 95 MB/S. The actual speed depends on your device and the manufacturer.
UHS - II
UHS - II has a theoretical bus speed of 312 MB/s, the actual speed of transfer might be around 100 to 300 MB/s.
UHS III
UHS-III is the latest addition to this game, and it has a theoretical and read/write speed of up to 624 MB/s.
Memory Card Classes
Although it is quite technical, one must know which class of memory card to choose. It is an important specification for videographers who need constant write speed. However, since the speed varies, it is very difficult to determine which memory card is suitable to record streaming content. Recording video requires a constant minimum write speed so that there is no 'frame drop' while recording a video.
Memory card speed class and Memory card bus speed are not the same.
The number that you see in big "C" is the speed class. It will be either 2, 4, 6 or 10, and these numbers relate to the minimum MB/s sequential write speed. UHS-1, UHS-II or UHS-III is not required.

The number that you see in "U" is the UHS speed class. It would be either 1 or 3. U1 represents a minimum sequential write speed of 10 MB/s, while U3 represents a minimum sequential write speed of 30 MB/s. There is a difference between UHS class 3 and UHS-III, and they are not the same.

The number you see next to "V" is the video speed class, and it is meant for high-resolution recording. It would be either 6, 10, 30, 60, or 90, and it signifies the minimum MB/s sequential write speed. It needs a UHS bus.
Device compatibility
Each device has its specific configuration, and you might need a minimum standard of the memory card if you want to get the best performance or output.
Your device's instruction manual would state the type of memory card required, but you may choose to use a different one too, if its specifications are higher. Let's consider you have a video camera that can record 4K video at 80 MB/s. The instruction manual might mention that you need a UHS-I class U1 card. But if you use a UHS-II class U3 memory card, then you should be fine.
The above example represents backward compatibility in which the memory card of backward generation might work, but the performance would be affected. It is always wise to know the exact requirements of the memory card for your device if you want good performance.
Nowadays, some cameras come with 2 SD card slots, which means you can use one for the photo and the other for the video. Ideally, UHS-I is good for photos, and UHS-II is ideal for videos.
So How Exactly Should You Choose a Memory Card?
The simplest answer to this could be that you read the user guide of your product and use those specifications to make a decision about the purchase of your memory card. The basic guidance like using a microSD or full-sized SD would be answered easily from the user guide book.
Now, this does not mean that you do not practice your due diligence. Each device is different, and in order to get the best performance from them, little research is required regarding their specific memory cards. You also need to check the user star ratings, like which memory cards got excellent reviews and which ones got bad reviews.
Also, devices that record in 4K mentions in their guide the type of memory card required for optimal performance and output. If you ever checked Sony FDR-X1000V, its user guide states that you will have to use a class 10 U3 microSD card if you want to record 4K videos.
Of course, you can opt for cost-effective options that have a lower price and are easily available (fast shipping options), and have good ratings, Also, the speed might not be that important when you do not record in 4K.