Project Status Reports: Inclusions and Template Examples
A project status report presents the progress of a business to the team management in a certain schedule. The purpose is to constantly update the key people such as stakeholders, the project manager, and other team members with the current status, so they can keep track of the development and identify issues or risks ahead. It may be challenging for you to create one, however, making a project tracking report via digital software or with the help of templates will make the task a lot easier.
What to Include in Your Project Status Report?
Reporting and presentation of the work that is completed within the week.

What plan to include next.

The problems, risks or issues encountered and how it is being resolved.

Budget audit.

Scheduling updates.

Tasks Management
Keep track of the work assignments of the crew and record the tasks they have finished. Uploading a photo or a video of the completed task is a good practice and can be useful. Also, the project manager can add comments or create new work orders if needed to update the workload of team members.
Desired Outcomes
Always go back to the project's short-term and long-term goals to keep track of the progress that leads to the desired outcome. This will help the team to plan and do the actions that must be done.
Present Issues
Be transparent with the team members about the problems that arise and their risks. It is best to discuss it with them and ask them to share their ideas of a solution. A team resolution is more effective when resolving such cases.
Latest Budget Audit
The funding is one of the most crucial factors in a construction project. This is why constant auditing of expenses and additional funds is very important to know the latest status of the budget.
Updated Schedule Outline and Deadlines
Set an updated timeline and a deadline for the tasks, so team members will be able to prioritize the ones that need to be managed first. Encourage team members to ask for help if necessary. Time is crucial in every project as it affects major variables such as budget.
Example Template of a General Project Progress Report
Project name and location

Date of record

Objectives: Identify if goals are met, or not.

Project status: Provide a summarized description of the status of the project and point out if it is on course, delayed, or at risk.

Relevant milestones: Include significant work progress.

Challenges encountered: Report drawbacks and resolutions done.

List of budget expenses

Timeline: If the weekly schedule is followed and tasks are done on time.
Business project status report templates (FREE)
Check out some functional yet simple status report templates we have shared below. To get started, please make a copy by clicking File > Make a copy from the menu.
Project management weekly status report template in Google Sheets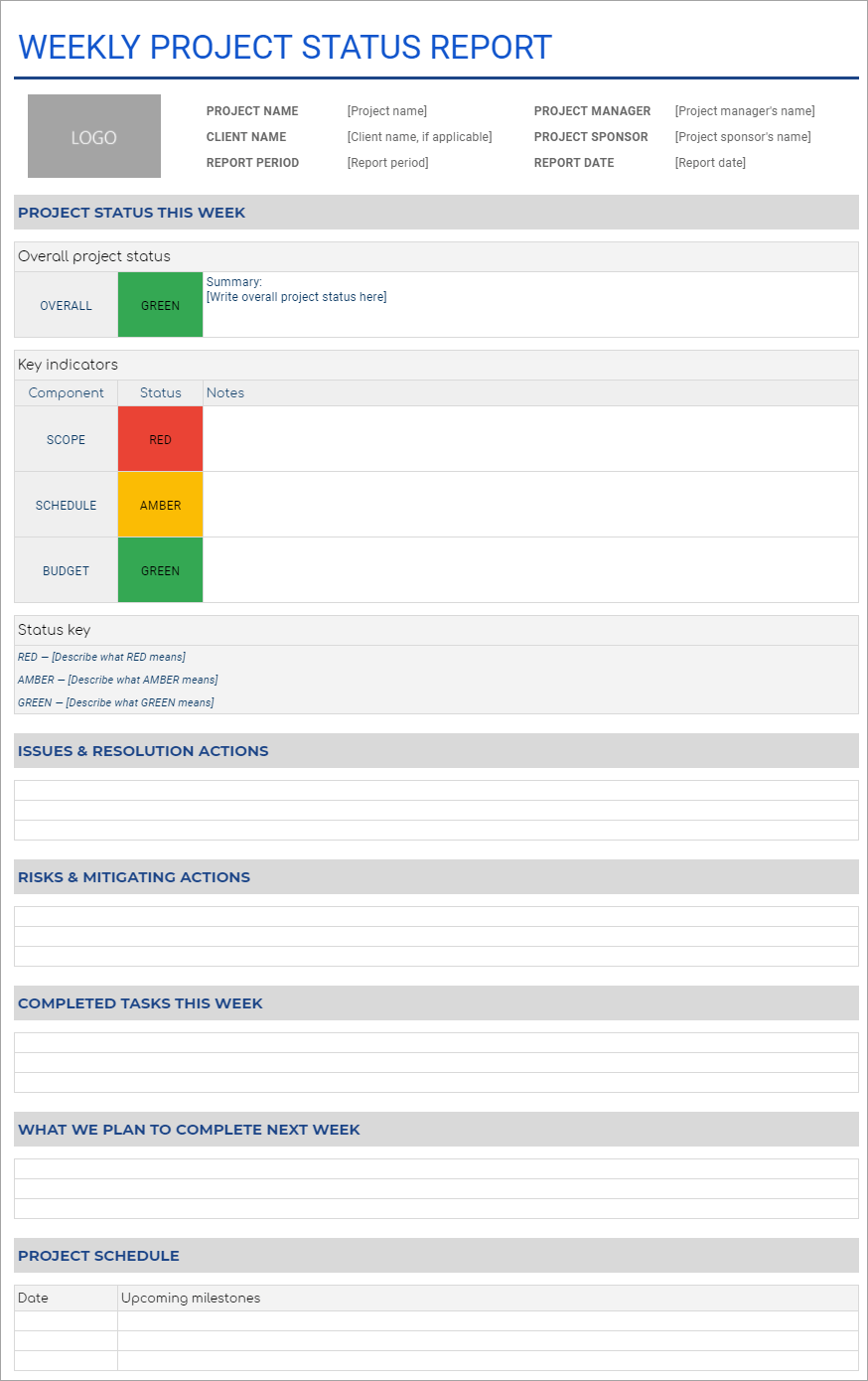 source : https://blog.coupler.io/project-status-report-template/
Other Template Examples
Other templates can be found in a software called PlanRadar. A ready-made template will guide team members or a project manager to create a structured and detailed document depending on what needs to be reported. This will also allow consistency to the project documentation, and prevent duplicated and/or missing data.
Basic Report Template
This template is the most basic; the report is done through a summative description of the development and is usually read by the audience. Files may be uploaded and attributes may be inserted.
Daily site diary template
The outline of this template is composed of relevant daily information such as the list of the crew for the day, the work accomplished, equipment status, material deliveries, visitors, and even the weather condition.
Meeting Minutes
Organize key points from a meeting, its participants, and the summary of the discussion.
Building Inspection
A blueprint marked with elements is the most efficient way to record the necessary details. Follow a color-coded structure for the elements (Example: blue for in progress, yellow for delayed, and green for completed).
Snag Reports Template
A snag is an unexpected drawback, which may cause a risk to the development. It needs to be immediately recorded and evidence such as a photo or a video must be uploaded. Snag reports keep the evidence of these drawbacks in one place.