Express Delivery

Secure Payment

Made in France
From $2,890.00
To $5,081.00
Image capture beyond limit
3x more surface area / 3x more power*
*with the external solar panel
Back to School : Buy more to save more
-$300 off one pack, $800 off two packs, $1300 off three packs
Tikee 3 PRO+ Pack: (1) Tikee 3 PRO+ timelapse camera, (1) stainless steel mounting arm, (1) stainless steel reinforcement, (1) hard case, (1) fixing kit, (1) microSD 256 GB card, (1) anti-theft cable.
Optional: myTikee Storytelling / Reporting / Unlimited subscription and/or external solar panel.



Free UPS delivery in the USA and Canada in 5-7 business days
Conditions for the return of products
The Tikee 3 PRO+ Pack gives you even more autonomy to make your professional timelapse videos, thanks to the external solar panel that can be connected to the camera via a waterproof connector.
It's the ideal solution if the location of your Tikee 3 PRO+ doesn't get enough sun: the solar panel can be moved up to 2 meters away from the camera, and provide up to 3x more energy.
The Tikee 3 PRO+ camera is 100% autonomous and connected, and has an embedded GPS device. You can easily configure it with the Tikee Remote smartphone application and find all your photos on the myTikee cloud platform!
You can add a myTikee Storytelling / Reporting / or Unlimited subscription and choose monthly or annual payment.
Camera

External Solar Panel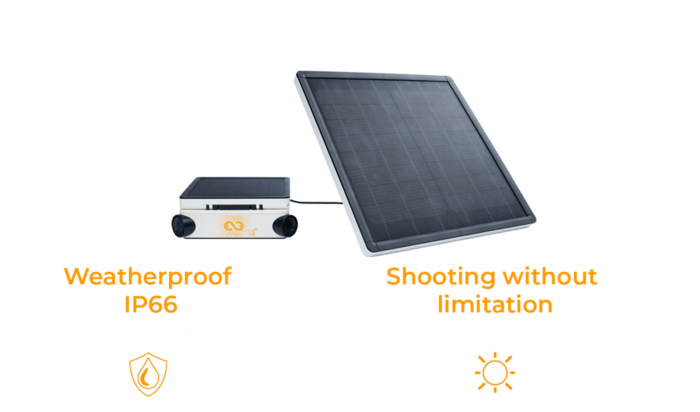 Specifications
Specifications
More Information
Casing
1
Dimensions
210 x 180 x 70mm / 1.60 kg
Cameras
Image Sensors: Sony Exmor R 16 Mpx
Lenses: F2.8 wide angle lenses
DFOV: 149 °
Maximum resolution of the sensors: 16 Mpx
Full resolution image size (per sensor): 4608 x 3456
Size of the sensors: 1 / 2,3
Number of sensors
2 camera modules for panoramic pictures
Resolution of left and right images sent to the web application
Upload pictures resolution : Adjustable - Up to full size 6K
Photos format
Jpeg / DNG / Jpeg+DNG
Live Photo & Video
Vidéo snapshot single lens - 20sec Photo snapshot
Resolution of timelapse videos
up to 6K with a myTikee storytelling subscription
4G LTE telecom network compatibility
4G/LTE World compatibility LTE-TDD: B34/B38/B39/ B40/B41 LTE-FDD: B1/B2/B3/B4/B5/B7/ B8/B12/B13/B18/B19/ B20/B25/B26/ B28/B66 UMTS/HSPA+ : B1/B2/B4/B5/B6/B8/B19
Details of resistance to external conditions
IP 66 : Designed for extended outdoor use (resistant to sand, snow, rain, etc.) Rotating and tilting arm of solar panel made with anodized aluminum Magnetic closure of the solar panel Operating temperature: -10 / + 50 °C Storage temperature: -25 / + 60 °C
Storage (not included)
Micro SD Card up to 512GB
Battery and solar panel
Fully autonomous power management : Built-in Li-on battery and Solar panel
Battery capacity
Indicative data without solar input: for 1 photo every 15 minutes 24h / 24: – with image upload: 12 days of autonomy – without image upload: 36 days of autonomy
Connectable external solar panel
Waterproof connector to connect a dedicated external solar panel
Charging
micro USB: 5V / 2A max.
External connector 5V/2.5A
Wireless data sending
Periodic connection in wifi (telecom subscription not included)
Permanent connectivity possible in ""Always On"" mode in 4G LTE (telecom subscription not provided)
Resolution of left and right images sent to the web application: selectable from 3 dimensions (in pixels):
Small (S) - 2048 x 1536 per image, approx. 1 MB per pair (panoramic image after fusion: 3280 x 1180)
Medium (M) - 2664 x 1998 pixels per image, approx. 2.5 MB per pair (panoramic image after fusion: 4260 x 1534)
Large (L) - 4608 x 3456 pixels per image, approx. 5MB per pair (panoramic image after fusion: 7360 x 2650)
Wireless Data Setup Details
Bluetooth Low Energy IOS and Android compatible mobile application Smartphone Compatibility: Bluetooth 4.1 and + – Android 5 and + – iOS 11 and +
Mounting system
Standard ¼ "camera screw
Upload mode
Normal mode: send every 25 (default value, configurable) pictures of the camera the status and pictures to myTikee
Minimal mode: sending status and a photo once a day
Sample mode: sampling of the photos sent, only 1 photo out of N (value chosen by the user) will be sent to myTikee
The upload mode, network coverage and settings chosen can significantly increased energy consumption
Securing the Tikee
Metal insert for the passage of a padlock
Shooting Interval
Long term sequence : 30 seconds minimum
Event or Burst : 5 seconds minimum
Geolocation (only available with a 4G LTE connection)
Yes - embedded GPS with assisted mode
(Available only with a 4G LTE connection)
Firmware update
Close to Tikee : update of the embedded software from micro SD card, wifi or 4G LTE
Adaptative interval
Yes - Mode allowing automatic adaptation of the shooting interval to optimize energy consumption
Tikee version
Global