Artificial Intelligence
Enlaps has developed artificial intelligence algorithms on the myTikee timelapse creation platform. Among the available features are:
Detection of people and objects

Counting, identification of protective equipment, civil vehicles, construction vehicles.

Project analysis

Evaluation and visualization of the construction progress on areas where changes are permanent. Spatial distribution (heat maps)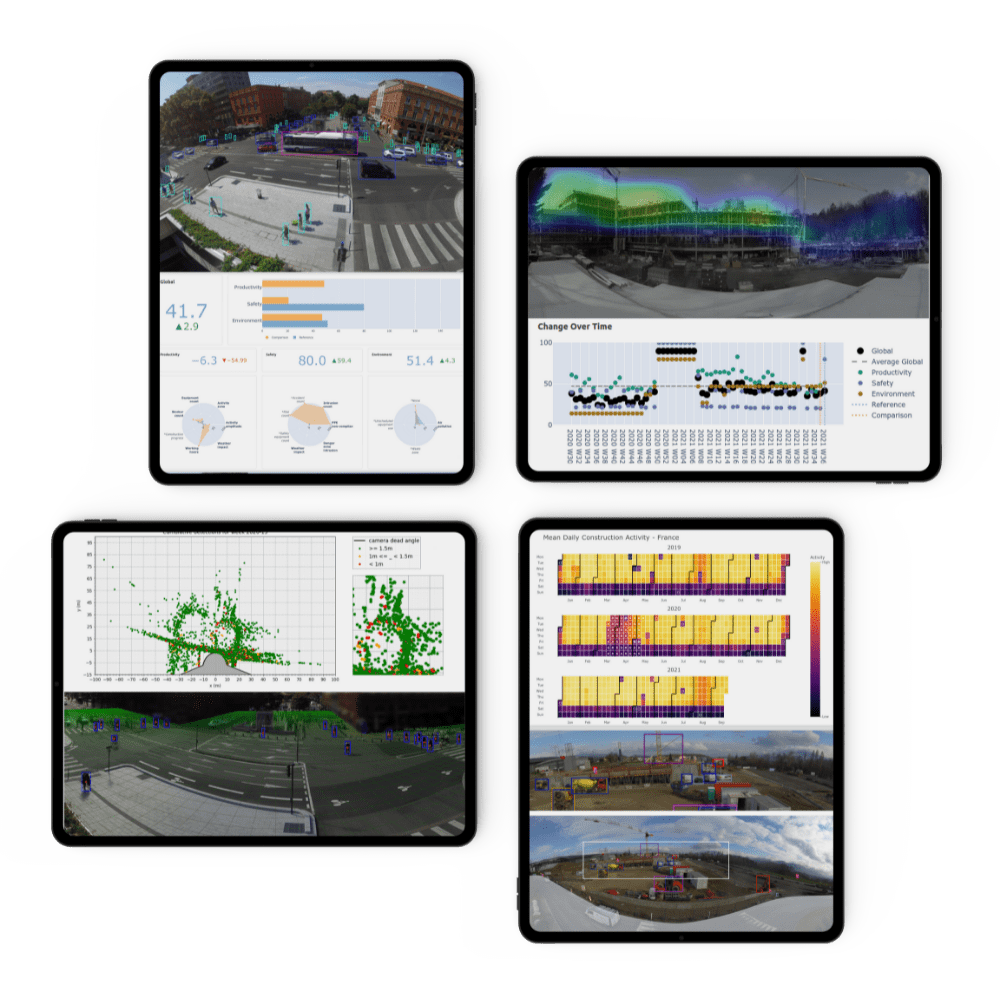 Risk detection

Capture of habitual behavior. Measurement of safety distance, safety zone / exclusion zone

Metadata

Date, Weather, Location, Image tag with AI filters

AI Dashboard and Reports

Compilation of data on a project and production of a report (periodicity according to needs...)

Detection of people and objects, GDPR blurring
Person blurring: to comply with the GDPR (General Data Protection Regulation), our algorithms allow you to obtain selective blurring in order to anonymize visible and recognizable people on the various projects.
With the myTikee Storytelling +GDPR subscription, people are automatically blurred in order to respect the right to privacy in compliance with the GDPR and the CNIL.
In order to blur the silhouettes of the people present, our algorithms will first detect the person(s) present in the image and where. A blurring on each silhouette is then applied to the image; this blurring is irreversible, so we can consider the photo as anonymous*. The photos are analyzed and blurred along the way, so the project can be shared on a public page (after agreement of the different stakeholders of the project).
This treatment is to be distinguished from masking. Masking allows you to manually blur a fixed area on the entire project. For example, the public highway, a neighboring building or a sidewalk. This feature is available on both myTikee Storytelling and myTikee Storytelling + GDPR.
When blurring or masking is enabled, the owner has the original project (unblurred or unmasked photos) and a project with blurring/masking. In the latter, the videos are generated from the blurred photos.
Tikee and myTikee, a state-of-the-art solution for image analysis
Thanks to its 220° horizontal angle of view, the Tikee camera covers a very large field of vision and its very high resolution also offers good detection performance.
For comparison, the Tikee camera has twice the resolution of a 16-megapixel camera, while a high-resolution (4K) video surveillance camera has only 8 megapixels.
Our algorithms can detect people and many vehicles (cars, trucks, motorcycles, bikes, boats, trains, buses). The detection and counting of objects allows you to monitor your activity with data on :
traffic flow
traffic
the distribution of the activity
A solution that will allow you to better understand what is used, at what time, and by whom (or what).
Enlaps can, on request, provide you with weekly reports, heat maps or occupancy maps in order to allow you to make the most of this data.


Metadata and smart filters
With the myTikee Storytelling subscription, you can take advantage of weather filters based on Artificial Intelligence:
Fair weather: photos with a majority of blue sky
Visibility: exclude photos with water drops, dirt or frost on the lenses, fog
Brightness: photos brighter than an adjustable threshold
Beautiful sky: selection of sunrise and sunset
Snow: all photos, photos only with snow, photos only without snow

These filters allow you to select in one click relevant photos from a very large quantity of photos to keep only those that meet your criteria.
For example, this allows you to display only usable photos (eliminate photos taken at night, with fog, or water on the lens), photos with snow or with a beautiful sky.
Discover the smart filters now by clicking on the

icon :
*Like any detection algorithm, this one is not infallible and some silhouettes may not be detected in certain conditions (partial silhouettes, bad light conditions, people too close or too far away).