#Time, the first mobile timelapse app for time comparison
For those looking for a timelapse app that allows them to keep track of everyday phenomena or long-term transformations (how your environment evolves, the passing of the seasons, a house renovation or construction work, or any other ongoing project that couldn't be shared before), Enlaps has created the first collaborative mobile app that uses time comparison (before/after pictures) to generate a new high-engagement video media: #Time
1. Keep track of what's important to you
Choose the subject you want to follow over a few hours, several days, or even several months.
2. For individual use or to share with your community
Depending on your project, keep it private or make it public. You can even enrich it with other people's contributions (after giving them access).
3. Use the before/after picture to tell your story
Our professional timelapse app #Time provides you with all necessary tools (geolocation, visual help, and a photo repositioning algorithm) to help put you — or any contributor to your project — in the same shooting conditions.
4. Share astounding, powerful, and inspiring visuals
Visualize your project's progress at a glance thanks to the app's image comparison tool or by using #Time's automatically generated media, and share this unique experience on your various social media platforms.
5. Make your own contribution to projects you care about
Access the timelapse app to browse through public projects to learn more about them and even make your own contribution!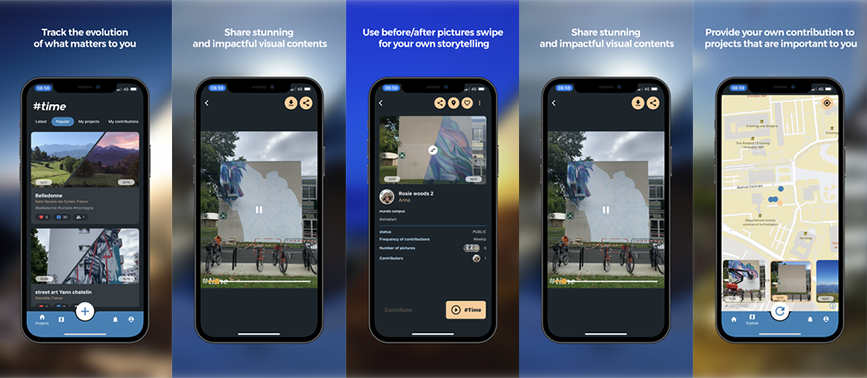 Start your project!
Showcase a Time Lapse via Mobile application with #Time by Enlaps
To shoot and create a beautiful time lapse for free with a high-quality resolution, we often think that different kinds of professional gear such as a DSLR camera, motion control systems, a tripod, interval timers, and various apps for time lapse are needed. Yes, these tools, when operated together, create stunning time lapse visuals. However, getting these types of equipment will surely cost you lots of bucks and also tend to get bulky when shooting. How will you be able to shoot a time lapse video without all these gadgets then? Enlaps has offered a solution for this kind of dilemma. You may not believe it, but you can now simply record a time-lapse with just your mobile phone (whether an Android or iPhone iOS user), without compromising the quality of your videos.
Enlaps has built a promising and free mobile time lapse app called #Time, which allows its users to be able to record the evolution and transformation of a phenomenon as time passes by through an Android phone or an iPhone. This will give you the opportunity to share special moments of your life that take time, the simple way, and for free. It may be a revelation about your house or garden renovation, the growing of your plant, the passing of a season, or anything else that is perfect for time comparison. #Time is one of the best mobile apps you can get to compare your before and after pictures and capture stunning timelapse moments.
Shifting to Mobile Mode
With the #Time app in hand, you will not be needing a professional camera and any other photography equipment to produce timelapse videos. This app is specially developed for mobile version use. It is compatible with both Android and IOS operating systems which makes it accessible to different kinds of smartphones. This will enable you to capture photos and shoot videos anytime and anywhere, and save media files throughout the time duration of your recording process.
Record a Transformation with #Time
Time lapse is all about being able to capture the transition or transformation of a subject motion. There are two ways to create time lapse videos, one is to merge a sequence of still photos to make a timelapse video and the other is to speed up the normal speed of the original video (this process is also known as hyperlapse). The first-mentioned process is how #Time works.
#Time is a Free app that offers the complete features and settings needed when editing the photos that you record with your phone camera to a time lapse video.
How #Time Works on iPhone & Android ?
First, you have to choose the subject or the scene that you want to feature in your video. It must be something that changes over time as this is the main essence of a time lapse video— to showcase the transition or transformation of the subject. Do not worry if the change happens within a few hours, a couple of days, or even after some months because you can easily keep track of it with #Time. You only have to record significant changes with a photo from time to time and make sure that you are shooting on the same frame position as the rest of the previous photos.
This app has built-in pro features such as a photo repositioning algorithm, geolocation guide, and visual help to ensure that you get the best photos every time. It also ensures that you take the picture at the correct angle to ensure stability once all the collected images will be merged together. These automated settings will make your recording process efficient and free from any hassle.
Create a Time Lapse and Remember the Moment
Once you have all your photos ready and have completed recording the transformation, you can then advance to the last and most exciting stage: the creation of the time lapse video. Download all the best pictures you captured, sync them to your #Time application, then stitch the before and after photos of the subject or scenario to the app. Afterward, #Time will automatically create the best version of time lapse video from it. Through this video, you will have a creative vision of the transformation that happened throughout the passing of time.
Go Public and Share Your Time Lapse Story
You can always choose what to do with the videos you make on the #Time app, either to keep it private for yourself or go public. If you choose the latter, the app will make it easy for you to share your video creations to various platforms such as Facebook, Instagram, Twitter, Google, and other apps on the internet. This way, you can share your story freely with everyone from around the world. Many people will be able to get a glimpse of the transformation of your subject and your unique experience.
Engage With Other Users
#Time provides a platform to enable engagement of all app users. It allows collaboration with other users from the app community. This means that you can give other users access to your creation, on which they are allowed to contribute to the editing process. They may also add images or download the media.
This feature works both ways. Just like how you can get help from other users, they can also ask for help from you. Meaning, you can also be a contributor to other user's projects and help them too. You can freely scan through the app and browse on projects that are set on public, so you can watch other timelapse videos and learn from them.
Start your journey with #Time and be a part of this collaborative timelapse application. Enjoy capturing moments, creating time lapse, and watching time comparisons using your mobile phone.