The Best Interval for Time Lapse
Interval for time-lapse photography plays a significant role. Actually, shooting beautiful photos is creative work. And, creative works require time! So, to prepare your next time-lapse photography trip more enjoyable and meaningful, you need to know the best interval for time-lapse.

You're in the right place! In this post, I will explain how to choose the best time-lapse interval for a marvelous time-lapse trip. Now let's get into it and keep discovering more!

What Is a Quality Interval for Time-Lapse?
There are two ways of arranging the interval. Here they are :
When you already know the final length and the duration of the actual shooting
Already you know that calculating time lapse intervals is easy. Because you've just learned about the time lapse calculator. Let's decide on the frame rate of the ultimate video footage. Then, turn the shoot duration into seconds. Finally, calculate how many frame rates the time lapse requires. To get the interval time, divide the time by the number of frames.
When you know the speed and final length of the time lapse
Different intervals depend on various types of movements. To know the duration, divide the ultimate length by the period. After that, multiply the number of frames with the interval result. Now, you can start shooting.
Time Lapse calculator
You might wonder how to calculate time lapse time with a time lapse calculator? When you shoot a scene carefully in order to make a time lapse, most probably, you capture a particular number of images with intervals between shots. A time lapse calculator helps you to learn how many pictures you need to capture within a specific time frame or for a video of a definite length.
Suppose the final video will be 10 seconds long. The maximum amount of photos will need to fit in this time frame. As you're thinking of a 10 seconds video, you'll need to take 240 pictures without interval.
Of course, you may want intervals between the frames. And these breaks will make you more creative in capturing the scenery. Here the time lapse calculator works very well, and you feel comfortable while choosing intervals. The time lapse calculator has pretty easy settings to use.
Time Lapse Shooting Technique
Indeed, time-lapse photography is a cinematography technique! With the procedure, time-lapse photographers shoot a series of still photos of the same margin at regular pauses over a while. Then, they play the complete series quickly.

Now I'm going to share how to shoot timelapse along with some time-lapse video techniques that will help you to make the best time-lapse photographs. Let's go and learn more.


Scout your location
Already you know that time-lapse photography takes a long time! First of all, you will need to choose a perfect spot, and then you can start shooting. In the meantime, you need to consider how much light the area gets, how the weather is in the area, or whether you will face any sudden barrier or not. If you choose the wrong place anyhow, you won't have good results. So, scout out for the perfect location.


Pack carefully
Always pack your time lapse photography tools before you go on your time-lapse photography trip. You will need to remember in which environment you are going to work — maybe the weather of the location is hot or sunny.
Then you should probably pack a hat and sunscreen or more stuff that suits the weather. Don't forget to pack a jacket and gloves if the environment is cold. And wherever you go, water and snacks are always your good friends. Pack them as much as you can!

Set up your stuff
Think twice before setting up your time lapse photography tools. Of course, you will need to set up your tripod and camera on firm ground. If you don't, the camera might move, and your final movie will look shaky! Better, take your time and set up things well.



Where Can You Do Time Lapse Training To Learn How To Create Time Lapses?
So, you are a beginner at time lapse photography and intrigued to learn how to create time-lapses? You might be wondering where you can do time lapse training to learn how to create time lapses?. That's why you are thinking about time-lapse courses and time lapse training where you can learn the concept. You will need a step-by-step guide so that you can learn how to create exceptional time lapses, from beginning to final steps.
You will find a lot of online training centers for time lapse photography. No matter your level on the subject. These training or courses will help you to learn how to create impressive time lapse videos.
But, you must be keen-witted to choose the best training center or course to learn about time lapse. Otherwise, you'll spend both money and precious time but gain nothing. Take a look at the track record of the course or training center where you want to learn.
Before you purchase a course or get admitted for online training, first be aware of their teaching methods. If it seems reliable (you may do some trial classes) and you find a time lapse training or course that was helpful for others, you can think of it seriously.

How to choose your shooting interval for a time-lapse? (infographic)
The realization of a timelapse requires choosing several parameters such as the duration of the final timelapse video, where to position the camera, but also and especially the interval between each shot. This interval is different depending on the choice of the timelapse, short-term or long-term, and depending on the timelapse subject. For example, the shooting interval for a sunset timelapse will be much shorter than for a construction site timelapse. Here are all the hints and tips for deciding your shooting interval.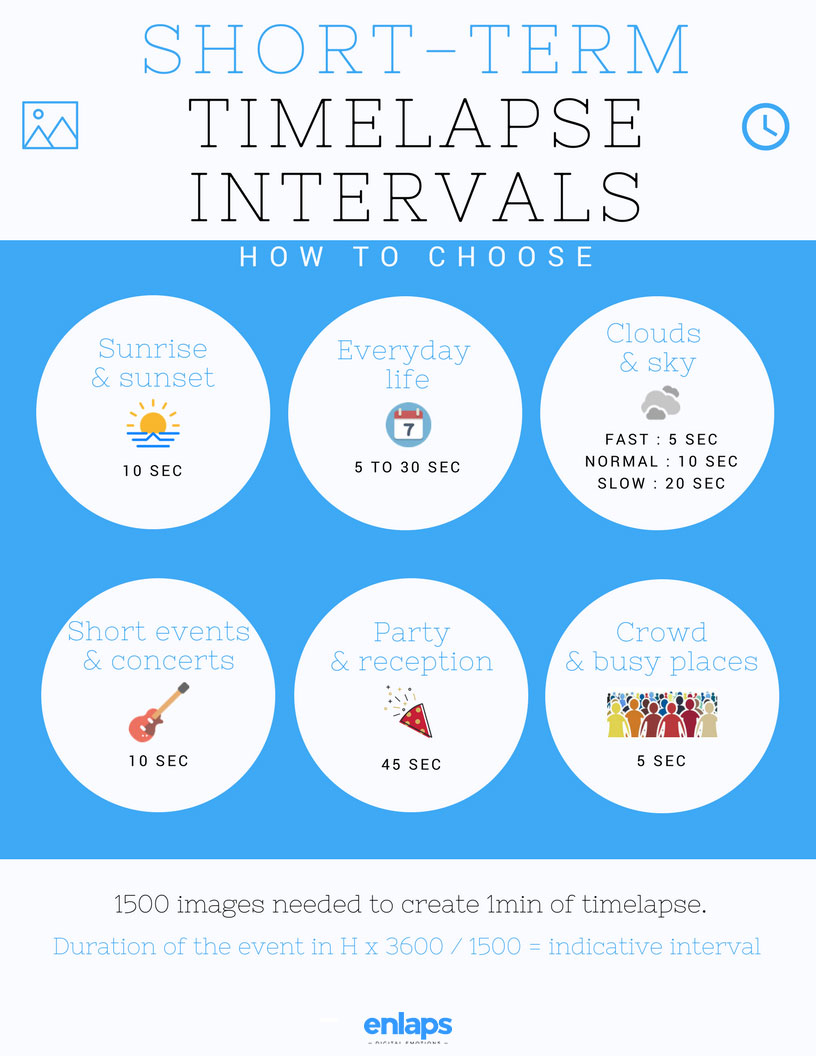 Please contact us if you have any question (here).
See you soon for new timelapse tips